Warriors – Festus Ezeli is The Worst When It Comes To 'Credit-Card Roulette'
Updated: February 13, 2015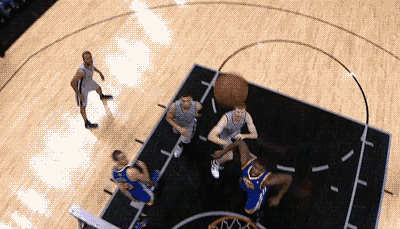 Festus Ezeli — Golden State Warriors
In the professional sports arena, team dinners often wreak havoc on a rookie's wallet. Making newbies pick up the check is a tradition as old as the veterans who delight in ordering only the finest surf and turf — a form of hazing that once left Dallas Cowboys wide receiver Dez Bryant's pockets $55,000 lighter.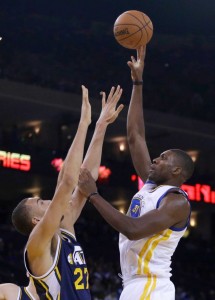 But the NBA's Golden State Warriors have a different — much more awesome — alternative to literally thumbing your nose when the waiter drops off the bill, and it could be the key to the chemistry that has Steve Kerr's crew atop the Western Conference standings. We'll let The Wall Street Journal explain.
Everything is cool until the check comes. Then the players pool their credit cards. They're pulled out of a hat one by one. The owner of the last one left is stuck with the entire bill.
"Credit-card roulette," Curry said. "It's a game of choice."
But none of the Warriors actually chooses the credit cards. They have to ask a waiter or waitress to referee their post-dinner game. "You can't trust anyone to pick the card out," Lee said.
Picturing some awestruck waiter shuffling through a dozen Centurion Cards as the pile gets smaller, the stakes get higher and the Splash Brothers are staring him back in the face is pretty hilarious — especially since the Warriors have proven themselves to be a pretty wild bunch on the road. But here's the real comedy: Festus Ezeli, working on his rookie contract, still ends up with the bill more than anyone else.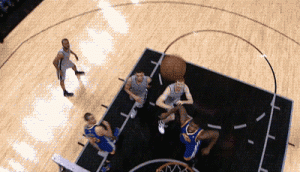 Here's how Ezeli, who is slated to make $1.1 million this season, describes the post-dinner drama after Andre Iguodala has wolfed down his share of Beluga Caviar covered in shaved white truffle and saffron.
"I'm just mad," he said. "They can see it. They're more excited when I lose."
And considering Stephen Curry & Co. go out to dinner as a group more often than most teams, according to The Wall Street Journal, that's a whole lot of excitement — as is the custom for Golden State this season.
From Around The Web