Before Stephen Curry and Klay Thompson grew up to be the Splash Brothers, they were just the sons of famous fathers trying to make it big. Dell Curry recalls his son tagging along with him before and after games with the Charlotte Hornets, learning from 5-foot-3 Muggsy Bogues how an undersized player can be successful. "Steph knew he wasn't going to be 7-feet tall. He knew he was going to be a point guard," Dell said.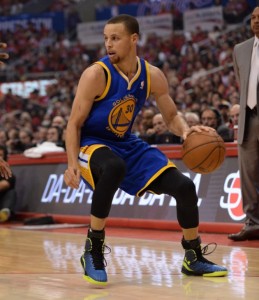 Mychal Thompson retired after 12 years in the league, winning two titles with the Los Angeles Lakers, before his son could see him play. But he stayed close to the franchise and his teammates, allowing Klay to be around some of the game's greatest players. "He could go in the gym and Kobe Bryant is there and he could pick his brain. Magic Johnson would pull him aside and give some advice and so would James Worthy and guys like that," Mychal said. From being raised by the league to dreaming about playing in it, Curry and Thompson are among the top attractions now. The Golden State Warriors' streaky shooting tandem will own the All-Star spotlight in New York this weekend. They will compete in the 3-point contest Saturday night in Brooklyn and lead the Western Conference in the All-Star game Sunday night at Madison Square Garden for what figures to be a culmination of just how far they've come.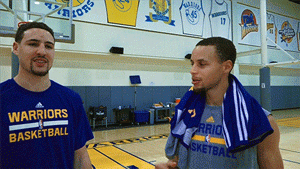 Ever since he could remember, Curry believed he could reach this stage.  He would attend his father's practices with a ball in his hand and never  let it go. When he spoke up, it was usually just to ask a question. "He was always a guy who paid attention," Dell said. Thompson realized in college at Washington State that he had a chance  to play professionally. He credits his father for keeping him on track as a youngster when he sometimes wondered if he should do something else. "My dad, he saw my gift at an early age. He said, 'Klay, a jump shot can take you a long way someday,'" Thompson said.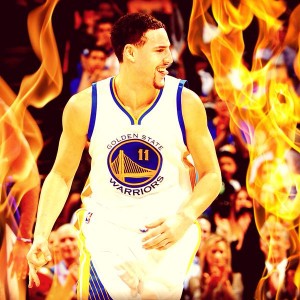 Thompson and Curry consider their NBA heritage a major advantage. But for many, following a famous family member can be incredibly difficult. Curry and Thompson are familiar with the struggle, too. Stephen's younger brother, Seth, a former Duke standout, has spent most of the last two seasons in the NBA Development League. Klay's older brother, Mychel, who played at Pepperdine, appeared in five games with the Cleveland Cavaliers in 2012 and has been trying to work his way back since. Stephen and Klay are the rare legacies who eclipse their father's shadow. Even rarer is that they've done it differently than their dads. Dell Curry was a spot-up shooter and perimeter-oriented player. Stephen is a magician with the ball, putting on dazzling dribbling displays to go with his smooth long-distance stroke. Mychal Thompson, the No. 1 overall pick in the 1978 draft by the Portland Trail Blazers, was a 6-foot-10 post player who made one 3-pointer in his career. Klay could consistently hit college-level 3s by the time he was 10 years old, and even then, his quick release seemed fundamentally flawless. "He came out of the womb knowing how to shoot," Mychal joked. Stephen and Klay merged paths when the Warriors drafted Thompson with the 11th pick in 2011. The 6-foot-7, 220-pound shooting guard provided the perfect running mate for the 6-foot-3 Curry, who was taken seventh overall in 2009 out of Davidson, where he was an NCAA tournament darling. [embed]http://www.youtube.com/watch?v=StOUecdBaaE[/embed] They led Golden State to the second-round of the playoffs in 2013, prompting then-Warriors coach Mark Jackson to proclaim Curry and Thompson "the greatest shooting backcourt in NBA history." Few are questioning that statement now.