Kansas State – Wins Third Straight Home Game – Upsets 12th Ranked Iowa State
Updated: February 28, 2015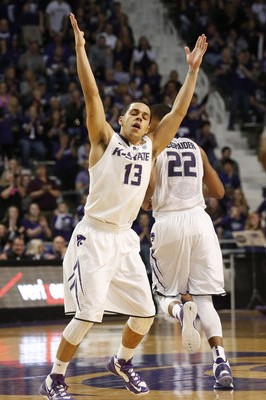 Kansas State might be a longshot to make the NCAA Tournament, but the Wildcats are still going to be a team no one wants to play in March.
Bruce Weber's Kansas State squad knocked off No. 12 Iowa State, 70-69, in Manhattan on Saturday thanks to a furious second-half comeback by the Wildcats and a last-minute mistake by the visiting Cyclones.
Trailing by one point without the ball with 18 seconds left, Kansas State's Wesley Iwundu stole a risky in-bounds pass from Iowa State and threw down what would be the game-winning basket. Iowa State's buzzer-beater attempt on the ensuing possession fell short.
Kansas State's security detail had a pretty solid court storm there.

— Rob Dauster (@RobDauster) February 28, 2015
Kansas State's security was aaaaalllll over that postgame handshake line. They learned.

— Jeff Borzello (@jeffborzello) February 28, 2015
Thought it was another Kansas State court storm for a second, realized it was just security folks. That's better, at least.

— Nicole Auerbach (@NicoleAuerbach) February 28, 2015

Kansas State pulls off third straight home upset with dramatic win over No. 12 Iowa State | NCAA Basketball | Sporting News