Keep up with the latest news and rumors around the NBA.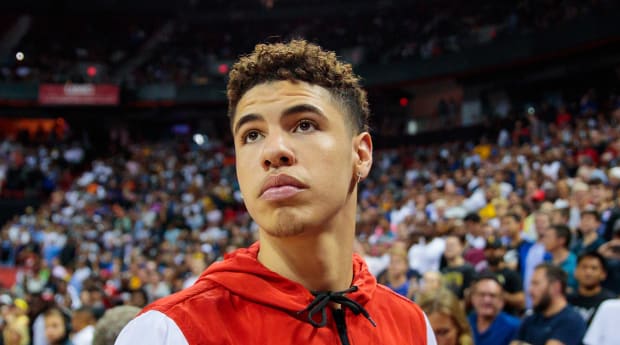 The NBA draft is less than two months away, and there's still plenty of questions over which player will come off the board first.
LaMelo Ball, Anthony Edwards, and James Wiseman have emerged as the top three draft picks, but there's a chance the Timberwolves won't keep their first overall spot. According to Bleacher Report's Jonathan Wasserman, Minnesota is considering trading down their pick but is expected to draft Ball if they keep their top selection.
A Western Conference executive told Wasserman that the Timberwolves are "confused" and not certain about one player yet. The team is under pressure after "messing up last year by trading for Jarrett Culver."
The draft isn't until Nov. 18, so Minnesota still has plenty of time to reach a decision.
Until then, several players in the draft pool will be speaking to the media this week over Zoom. Ball was among a handful of players to join the calls on Monday.
Check out the latest news and rumors around the NBA:
Nuggets forward Jerami Grant is expected to opt out of his player option. He is set to make $9.3 million in 2021 if opts into the final year of his current contract, but he could get more money elsewhere following his breakout playoff performance. (Mike Singer, The Denver Post)
The Warriors, who have the No. 2 overall pick, aren't likely to take Anthony Edwards if he's still on the board. Teams reportedly are "worried about Edwards's drive and enthusiasm for winning." (Jonathan Wasserman, Bleacher Report)
LaMelo Ball doesn't agree with his father LaVar's assessment that he wouldn't be a good fit for the Warriors. "My old man, he's his own man. He has his opinions, I have mine. Like I said, I feel like I can play on any team. Anywhere's a great fit," LaMelo Ball said. (Anthony Slater, The Athletic)
Killian Hayes has spoken to the Warriors, and his agent told him that he could go anywhere from No. 2-No. 10. (Anthony Slater, The Athletic)
Hayes also said he hasn't spoken with the Timberwolves. (James L. Edwards III, The Athletic)
——————-