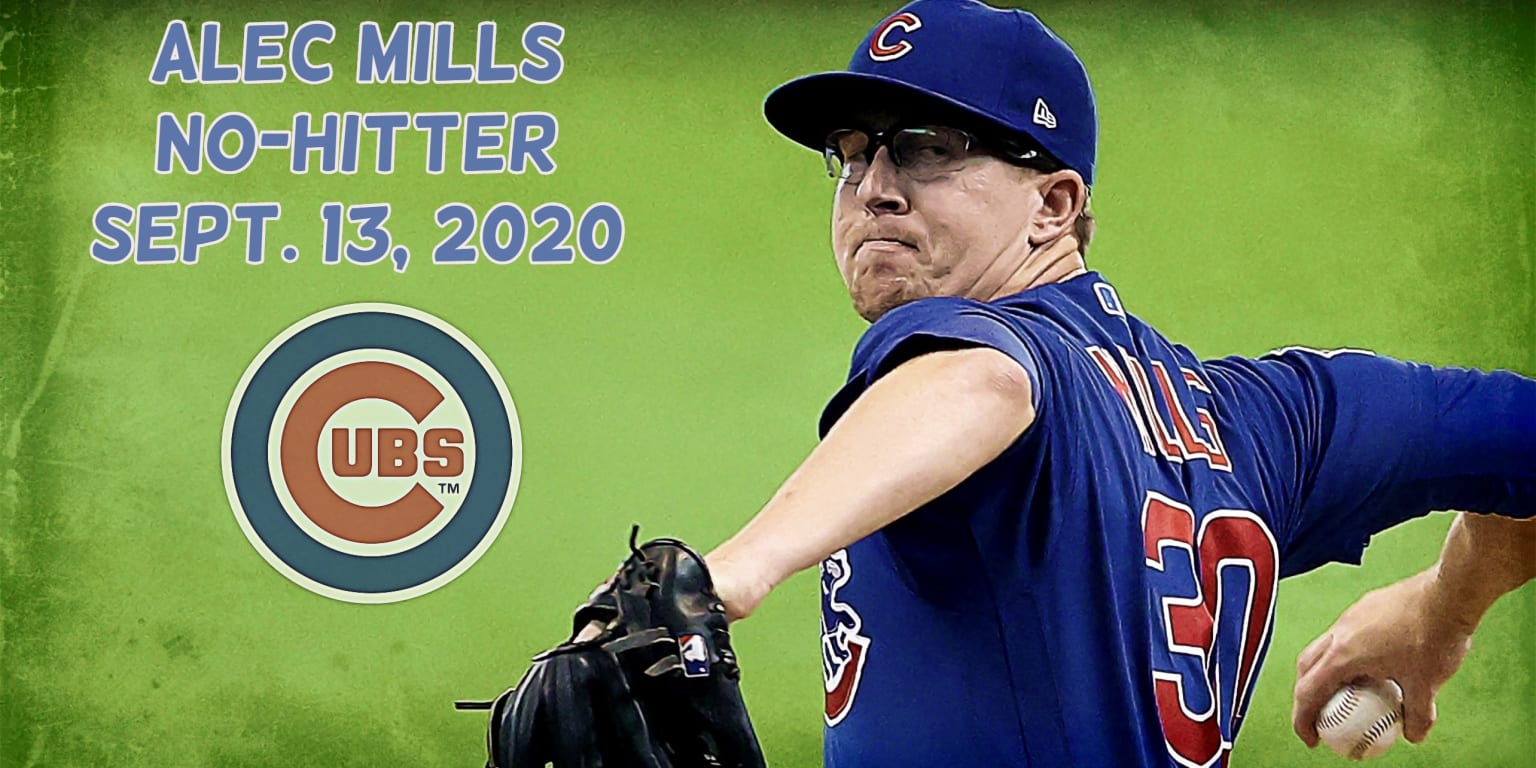 One of the beautiful aspects about baseball is the fact that history can arrive out of nowhere. The record book can find room for a pitcher who walked on his college team, never reached top-prospect status, was drafted late, traded, injured and counted out multiple times.
History found Alec Mills.
On Sunday afternoon, Mills authored the 16th no-hitter in Cubs history in a 12-0 victory over the Brewers at Miller Park. Once a walk-on at the University of Tennessee at Martin, Mills now finds his name alongside Jake Arrieta, Carlos Zambrano, Ken Holtzman and others in Chicago's list of no-hitters.
"I'm just proud to be that person that can tell you to never give up," Mills said. "Never stop playing. Never let people tell you what you can and can't do and just keep persevering."
A 22nd-round Draft pick in 2012, Mills was acquired from the Royals for Minor League outfielder Donnie Dewees in a February 2017 trade that hardly registered on the Hot Stove radar. This season, Mills was supposed to be in the bullpen, but a preseason injury to José Quintana opened a spot in the Opening Day rotation.
Now, here were the National League Central-leading Cubs, forming a celebratory mob around a beaming Mills on the Miller Park mound.
"The one thing that stands out to me about Alec," Cubs manager David Ross said, "is that no matter what situation I put him in this year, he's answered the expectations that we have for him."
• Stats, facts from Mills' stunning no-hitter
Mills' no-hitter was the first since Arrieta's gem against the Reds on April 21, 2016. It was also the second Cubs no-no at Miller Park, though that one — on Sept. 14, 2008 — came via Carlos Zambrano against the Astros in a series moved from Houston to Milwaukee due to Hurricane Ike.
• Cubs have 2 Miller no-nos. Only 1 is vs. Crew!
For the final out, Mills induced a grounder off the bat of Jace Peterson, who sent it bouncing to Javier Báez. The shortstop gloved the ball and let out a scream as he fired it across the diamond to first baseman Anthony Rizzo, setting off the celebration.
"I just wanted the ball hit to me," Báez said. "It's unbelievable. This is something that we're going to be part of for life. This is something like a championship kind of thing. No one can take it away from you. So I'm really, really happy that I was part of it.
"Hopefully, he'll do it again in the future."
No batter will ever walk out of the box feeling overpowered, but Mills has a knack for frustrating hitters in a manner similar to Kyle Hendricks. The righty has a fastball that hits 90 mph on a good day. He relies on command and confusion. Mills' curveball floats in at around 66 mph on average, making it one of the slowest breaking balls in MLB.
Early on during Sunday's game, Mills felt his four-seamer was a bit off. Following a discussion with catcher Victor Caratini, the right-hander opted to lean more on that curve than usual. Mills featured it 20 percent of the time (compared to 13.6 percent on the season), giving Milwaukee a different look than expected.
"I thought the slow curveball was a really good pitch for him," Brewers manager Craig Counsell said. "He threw good strikes with that pitch. He mixed in his fastball enough and and enough movement on it that he kept us off the barrel for the most part.
"You congratulate him, obviously. He pitched a great game."
Over his nine historic innings, Mills struck out five and walked three in a 114-pitch performance. The five strikeouts were the fewest in a Cubs no-hitter since Holtzman had zero against the Braves on Aug. 19, 1969. The five swinging strikes for Mills tied Dallas Braden (2010 perfect game) for the fewest in a no-no since Stats, LLC began tracking pitches in 1988.
The closest the Brewers came to a hit was a deep drive by Jedd Gyorko that center fielder Ian Happ tracked down in the second inning and a groundout to Báez that Avisaíl García nearly beat out in the sixth. García threw his arms out to the sides signaling that he felt he was safe with an infield hit, but Báez's throw to Rizzo arrived in the nick of time.
"We know how Alec Mills likes to work," Caratini said via Cubs translator Will Nadal. "Our plan was to attack, find that contact and we were successful with that, thankfully."
Ross said the realization that Mills was chasing history arrived in the sixth, when the manager was looking to maybe get some regulars out of the game with such a large lead. Ross approached veteran outfielder Jason Heyward and offered him the chance to exit the game.
Heyward wanted to stay in for Mills.
"He told me he was riding with Millsy," Ross said. "Don't take him out until Millsy comes out."
Told of Heyward's feedback to Ross, Mills fought to find words as some emotions took over. The pitcher then told a story about how Heyward was the first player to introduce himself to Mills when the right-hander joined the Cubs.
"Jason's been big," Mills said. "That means a lot. That kind of hit me. That really means a lot."
After the final out, Caratini and Mills embraced on the mound, and Rizzo was next to join the hug as the rest of the players arrived. After the scene calmed down, Rizzo handed Mills the final out ball, and Willson Contreras gave the pitcher his glasses, which had been knocked to the ground.
"I want to watch the video. I don't even know if I really celebrated," Mills said. "It was kind of surreal. I don't know what I really did, to be honest with you. I don't remember."
As the final play was being made, Mills actually turned toward Rizzo, raised his arms skyward and stuck out his tongue before breaking into a wide smile.
Immediately after the game, Mills had not had a chance yet to check his phone. The pitcher laughed and said that veteran second baseman Jason Kipnis told him he actually took a video of all the messages and calls coming in when the players went into the clubhouse.
Mills said his first order of business would be to call his wife, and then his parents.
They were there for the journey, which led to history in Milwaukee.
"It's just a proud parent moment," Ross said. "That's how you feel. You see the adversity somebody's been through, and to work hard and get an opportunity and make the most of it is really rewarding from my seat."
——
Original article first appeared on MLB News by Jordan Bastian on 2020 09 13
Read More at https://www.mlb.com/news/alec-mills-cubs-no-hitter-vs-brewers
Did you miss our previous article…
https://sportsgooru.com/mlb/pujols-660th-hr-ties-mays-for-5th-all-time/