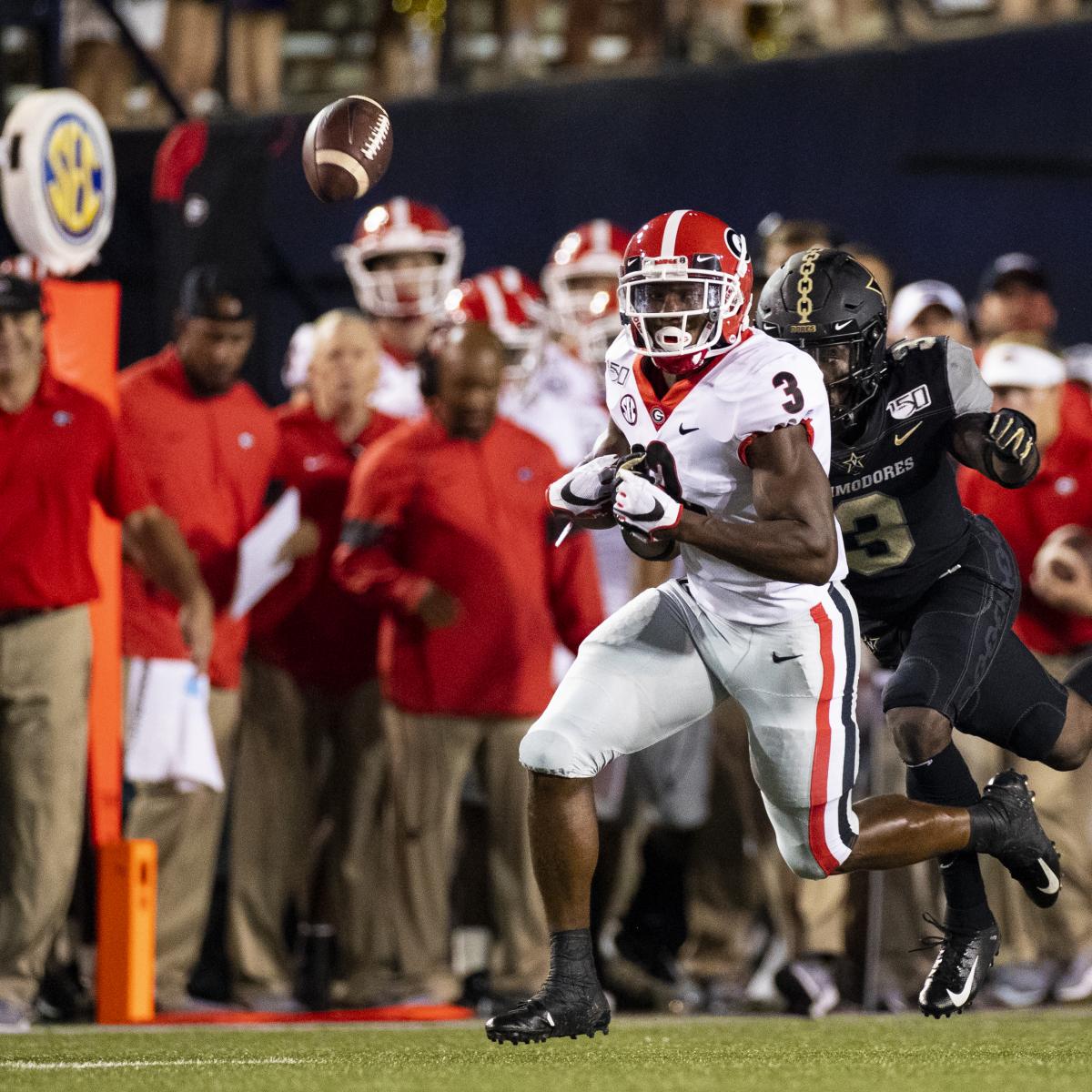 Top 10 SEC Players Poised to Have a Breakout Year
0 of 10
Brett Carlsen/Associated Press

A year ago, few people would have placed LSU quarterback Joe Burrow on the list of potential SEC breakout players, but the Bayou Bengals signal-caller burst out with a Heisman Trophy-winning season while leading head coach Ed Orgeron's team to a national title.

With a 10-game, SEC-only slate scheduled to begin Sept. 26, it's going to be interesting to see which unheralded stars emerge this time around.

The COVID-19 pandemic stunted the majority of spring practices across the nation, making it less likely exciting young quarterbacks like Alabama's Bryce Young, Tennessee's Harrison Bailey or LSU's Max Johnson begin the season as starters. 

Still, don't count out the guys behind center by the end of the year.

Even so, the 10 most likely breakout SEC players mostly play at other positions, and the only quarterback on the list already has nearly a season of starting experience under his belt. 

With a star-studded stable of running backs, a group of potentially elite defenders and some exciting pass-catchers sprinkled in, there are still plenty of capable candidates.

Factoring in opportunity to thrive, skill set, natural ability and team needs, let's take a look at the top 10 SEC players poised for breakout seasons in 2020. 
Big Kat Bryant, Auburn Defensive End
1 of 10
Butch Dill/Associated Press

When you've got a nickname like Big Kat that is listed on the official roster instead of your given name, big things are expected.

That's certainly the case when it comes to Auburn defensive end Big Kat Bryant.

With Derrick Brown, Nick Coe and Marlon Davidson off to the NFL from defensive coordinator Kevin Steele's dominant defensive line, the Tigers need a massive final season from the man who started at the Buck a season ago.

He finished last year with just 16 tackles, including two for a loss, and nine quarterback hurries. His biggest play of the season came in a season-opening win against Oregon when he had an 83-yard fumble return to the 3-yard line.

After that, his season was just so-so.

Now, the Cordele, Georgia, native whose older cousin, Montravius Adams, was also an Auburn standout wants to leave his mark on the Plains. At 6'5″, 250 pounds, he has all the physical tools to be a terror coming off the edge, and he will have the opportunity this season with all those workhorses gone to the NFL.

While AU has plenty of potential young stars like linebacker Owen Pappoe and cornerback Smoke Monday, this feels like Bryant's defense. He's the veteran, and it's time for his physical ability to catch up on the stat sheet.

The bet is Steele's coaching helps Bryant become one of the best defenders in the SEC. Look for him to be a household name by the end of the season.
Mohamoud Diabate, Florida Outside Linebacker
2 of 10
Jeff Roberson/Associated Press

No matter the concerns for the Florida Gators the past few years at the offensive skill-player positions, they have been able to lean on some strong defenses.

That is expected to be the case again in 2020 as big things are expected from the Gators even though head coach Dan Mullen needs to find some capable playmakers to surround quarterback Kyle Trask.

Even though Florida must replace some reliable defensive stalwarts, the Gators still have plenty of budding playmakers who look like they can become SEC stars in a hurry—perhaps none more so than outside linebacker Mohamoud Diabate.

Don't just look at him as a second-level defender, though. Defensive coordinator Todd Grantham will line up the 6'2″, 213-pound defender everywhere, and he seems a logical fit for the Buck pass-rushing position vacated by Jonathan Greenard.

As a true freshman a season ago, Diabate earned important snaps and was sometimes dominant in a reserve role, finishing the year with 21 total pressures to rank second behind Greenard on the team, according to SI.com's Brandon Carroll.

He wound up with 4.5 sacks and one forced fumble, and he should grow into a starting role this season.

The Gators need proven playmakers, and they will be searching for those in a year with no "gimme" games to grow acclimated to the speed of the action. That's why players like Diabate, who have such immense physical abilities, are sure things.

Look for him to have a massive season. He has plenty of time remaining in the Swamp to make a name for himself, too.
Arik Gilbert, LSU Tight End
3 of 10
LSU true freshman tight end Arik GilbertCredit: 247Sports

LSU may be looked at as a team in transition after last season's national title run, and that's OK. But do not sleep on the Bayou Bengals offense, even without quarterback Joe Burrow and passing game coordinator Joe Brady.

There are still plenty of weapons for new signal-caller Myles Brennan. He's walking into an ideal position despite the losses of playmakers like running back Clyde Edwards-Helaire, receiver Jordan Jefferson and tight end Thaddeus Moss.

Biletnikoff Award winner Ja'Marr Chase is the centerpiece of the offense, and he is back on the Bayou for at least his junior season. Classmate Terrace Marshall Jr. has big-play ability, too, returning more than 600 receiving yards from a season ago.

One of head coach Ed Orgeron's biggest recruiting coups came in the form of Marietta High School tight end Arik Gilbert, who won a state title in Georgia's highest classification while catching passes from Tennessee quarterback signee Harrison Bailey.

The Blue Devils offense was impossible to stop a season ago, and Gilbert's skills are very translatable into playing time, even in the nation's top conference.

At 6'5″, 253 pounds, he moves like a wide receiver, has elite body control and can shift all over the field to create mismatches. He is also big enough to play in-line if needed, and with Moss off to the NFL, he seems an ideal fit for an immediate starting role.

Gilbert is the kind of player who screams freshman All-American, and he could keep the offensive firepower churning at LSU in 2020.
Eric Gray, Tennessee Running Back
4 of 10
Wade Payne/Associated Press

The Vols ended their year with six consecutive victories, and that wouldn't have happened without freshman running back Eric Gray, who rode a scoreboard-shredding final two games of the season into everybody's breakout list for 2020. There's a good reason for that, too.

Once head coach Jeremy Pruitt turned from Ty Chandler and Tim Jordan and relied on the first-year player from Memphis, Gray produced big numbers, starting with an epic 246-yard performance against Vanderbilt that was highlighted by three scoring runs and included a 94-yard scamper.

With Tennessee sputtering in the Gator Bowl against Indiana, Gray churned out 120 yards from scrimmage, earning MVP honors in a 23-22 comeback win by recovering the pivotal onside kick late in the game and capping it with a 16-yard touchdown.

He finished the year with 539 rushing yards, 115 receiving yards and five total touchdowns. But he hardly received any meaningful carries until the end of the year.

Now, with Jordan gone, Gray and Chandler should shoulder most of the load for the Vols in 2020 with freshmen behind them. 

At 5'10", 205 pounds, Gray has to prove he can be an every-down back in a rugged, SEC-only schedule, but that may not be as difficult as it would have been on Rocky Top in years past if the Vols have the kind of offensive line they expect to trot out this season.

If that line comes together and senior quarterback Jarrett Guarantano can be a little more consistent, Gray may just be the home-run hitter Tennessee needs to carry the offense to greater heights.
Malik Heath, Mississippi State Wide Receiver
5 of 10
Mississippi State WR Malik HeathCredit: 247Sports

The Mike Leach experience in Starkville, Mississippi, is about to begin in earnest, and it's going to be intriguing for everybody to see just how the head coach's offense translates to the SEC.

One thing is certain: After this long, don't expect him to change too much.

You know the Bulldogs are going to pass the ball a lot, which is why Stanford graduate transfer K.J. Costello elected to finish his career with Mississippi State's rebuilding project, slinging the ball all over the field for a coach who has produced Gardner Minshew II and Luke Falk the past few seasons.

While there aren't a lot of known names roaming the field for the Bulldogs, JUCO transfer receiver Malik Heath should change that in a hurry. 

He's a do-it-all prospect with size and speed, and he has a wide-open path to playing time for a pass-first offense. That's a pretty strong concoction for a huge receiving season.

The nation's second-ranked JUCO receiver and a top-10 player from those ranks, per 247Sports, he has the size (6'3″, 210 lbs) and ability to be a playmaker right away. Given the way Leach loves to post PlayStation numbers through the air, his first season in Starkville could be a huge one.

Per Tyler Horka of the Mississippi Clarion Ledger, Heath was arrested on Aug. 13 after he "was pulled over by Mississippi Highway Patrol for speeding 20 miles per hour over the limit. He was also driving without a license and without insurance, driving with improper equipment and driving under the influence (DUI)."

If he gets on the field for MSU, he will be hard to stop.

The former top-ranked player in the state of Mississippi had 61 catches for 835 yards and seven scores for Copiah-Lincoln Community College, according to Horka, and he will be a favorite target for Costello. He has the potential and the opportunity to eclipse 1,000 yards this season.
Ryan Hilinski, South Carolina Quarterback
6 of 10
Sean Rayford/Associated Press

The lone signal-caller on this list is one who could wind up having a huge year for the South Carolina Gamecocks.

He may have to if head coach Will Muschamp is going to save his job.

After the gut-punch news that elite freshman running back MarShawn Lloyd will miss the season with a torn ACL, according to 247Sports' John Whittle, the Gamecocks are even thinner in the backfield. That may lead to Ryan Hilinski airing it out even more than expected, and the rising sophomore is more than capable of doing big things through the air.

When Jake Bentley went down a season ago, Hilinski took over as a true freshman and completed 236 of 406 passes (58.1 percent) for 2,357 yards and 11 touchdowns with five interceptions. He was a high-profile commitment for Muschamp out of California in the 2019 recruiting class and paid immediate dividends.

Hilinski came East to play his college ball, and his promising first season caused Bentley to head West to finish his, leaving the Gamecocks for Utah. Now, this is Hilinski's team, and the 6'3″, 225-pound quarterback should be even better a year into the system.

It will be interesting to see just how quickly his development pays dividends with the Gamecocks playing an SEC-only schedule and needing to get off to a quick start against Tennessee. South Carolina has few known dependable commodities at the skill positions, so it'll need Hilinski to be every bit as good as advertised.

This is a young player who can make all the throws, and he will be asked to do so right away with the Gamecocks in need of an offensive boost.
Jaylon Jones, Texas A&M Cornerback
7 of 10
Texas A&M Cornerback Jaylon JonesCredit: 247Sports

If you are looking for the next Derek Stingley Jr., it's going to be difficult to find a standout like last year's LSU true freshman phenom.

But the closest thing in the SEC to a first-year difference-maker in the defensive backfield may be found in College Station, where Jaylon Jones has the chops to live up to his billing as one of the nation's top 25 players coming out of high school, according to 247Sports.

The 5-star prospect from Cibolo, Texas, is 6'2″, 205 pounds, rangy enough to play man coverage against receivers and physical enough to line up all over the field on the back level of the defense. Look for him to be a versatile playmaker for defensive coordinator Mike Elko's young squad.

Big things are expected of the Aggies in 2020, and the way Elko molded freshman safety Demani Richardson and sophomore Leon O'Neal Jr. a season ago should be even more reason to be excited about Jones' upside.

Current starter Myles Jones has not been very dependable for the Aggies during his first three seasons in College Station. Though he has plenty of ability, the younger Jones could supplant him with a big fall camp and is far too talented to keep off the field for a long time.

While it would be placing unrealistic expectations on the incoming defensive back to expect Stingley-sized results in 2020, it's not out of the realm of possibility for him to have the same type of impact Richardson did a season ago. 

Last year's star defensive back was a first-game starter, busted out with eight tackles against then-top-ranked Clemson and wound up third on the team with 71 tackles, earning him Defensive Top Newcomer on A&M's team.

If Jones can replicate his value, even if it isn't with the same type of tackle production, the A&M defense will continue to explode, and this could be a huge year for head coach Jimbo Fisher's team.
Trey Sanders, Alabama Running Back
8 of 10
Vasha Hunt/Associated Press

You may have forgotten about Trey Sanders, but it won't take you long to get reacquainted with the nation's former top-ranked running back.

The IMG Academy standout suffered a foot injury prior to last season, costing him the entire 2019 campaign. It was just one of many injury setbacks the Crimson Tide faced, and it robbed us of the ability to see one of the truly exciting playmakers from the 2019 recruiting class.

Head coach Nick Saban won a hotly contested recruiting battle for the 6'0″, 214-pound back, and though he's returning from a major injury and is blocked by elite senior Najee Harris and steady backup Brian Robinson Jr., Sanders is an intriguing pick here.

Bryce Young would have been an easy pick, but the lack of spring practice will hurt the freshman quarterback in his attempt to beat out Mac Jones. Defenders like redshirt junior LaBryan Ray and sophomore Christian Barmore, as well as true freshmen Will Anderson and Drew Sanders, would have fit here, too.

Alabama will have a bunch of talented, young receivers trying to fill the voids left by Jerry Jeudy and Henry Ruggs III alongside DeVonta Smith and Jaylen Waddle.

But Sanders is going to be fun to watch when he gets the ball in his hands. Though Alabama's running back corps is deep, that didn't stop guys like Derrick Henry when Mark Ingram was on the roster. Saban will find a way to get his best players the ball.

Make no mistake: Sanders is an elite playmaker who everybody in Tuscaloosa is excited to see sprung. He'll get his chances in 2020. Finally.

He just had to wait an extra year to get on the field.
DeAndre Square, Kentucky Linebacker
9 of 10
With perhaps the best offensive line in school history, a trio of exciting running backs and a defense that has as much talent as any in the Mark Stoops era, Kentucky has a lot of reasons to be excited about the 2020 football season.

Yes, the Wildcats lost virtually their entire offense when quarterback/wide receiver/do-it-all playmaker Lynn Bowden Jr. headed to the NFL, but Stoops put him behind center out of necessity a season ago. Terry Wilson now returns to Lexington after he was injured a season ago.

While running back Christopher Rodriguez Jr. was on SEC Network's Cole Cubelic's list of potential breakout players, the guy to watch nationally is somebody those in Big Blue Country already know about: junior linebacker DeAndre Square.

Though he wasn't a highly regarded prospect, Square burst onto the scene a season ago as a sophomore, finishing second on the Wildcats, behind only Yusuf Corker, with 69 tackles. He also added four tackles for loss, 1.5 sacks, three quarterback hurries, an interception and a forced fumble.

The former high school safety prospect has spent his career in Lexington getting bigger and better, developing into a player who possesses the quickness and versatility to roam all over the field on the second tier of the defense and be a terror for offensive coordinators to scheme around.

With Stoops at the helm, Kentucky has done an exceptional job developing defenders, and Square has the ability to be an All-SEC linebacker on the interior this year and exit Lexington early after his junior season. It's going to take special seasons from guys like him for Kentucky to catch Georgia and Florida in the East.

This is a huge opportunity for Square to prove he's one of the league's top defenders and to help Kentucky continue to prove it belongs in the SEC conversation.
Zamir White, Georgia Running Back
10 of 10
Butch Dill/Associated Press

Already in this story, two highly recruiting running backs who suffered major injuries before ever playing a college down have been mentioned. But big things are expected of Alabama's Trey Sanders this year and will be of South Carolina's MarShawn Lloyd next season.

A running back who is on his way to proving there is life after a major knee injury is Georgia's Zamir White, but that's not an unfamiliar Bulldogs blueprint. Nick Chubb and Todd Gurley followed the same path before him.

More than two seasons removed from his injury and a year after showing promise as DeAndre Swift's backup in Athens, White should be excited about the potential to run with the power and strength that earned him the nickname "Zeus" as a major running back prospect coming out of North Carolina.

At 6'0″, 215 pounds, the rising sophomore bruiser needs to show breakaway explosion, but the punishment with the ball in his hands is already evident. As a redshirt freshman in 2019, he finished third on UGA's team with 408 yards and three touchdowns while averaging 5.2 yards per carry.

During a Sugar Bowl trouncing of Baylor, White finished with 18 carries for 92 yards in what was perhaps a showcase of things to come as he is now expected to be the primary back.

The way head coach Kirby Smart has recruited ensures White won't have to shoulder the load on his own. Kendall Milton, James Cook, Daijun Edwards and others will serve as exciting, young options behind him.

But White was recruited to be a bell cow, and this is his opportunity to prove he may just be one of the top running backs in the league.

All stats courtesy of CFBStats.com and Sports Reference, and recruiting rankings per 247Sports' composite unless otherwise noted.

Follow Brad Shepard on Twitter at @Brad_Shepard.
——
Original article first appeared on Bleacher Report – College Football by Brad Shepard on 2020 08 25
Read More at https://bleacherreport.com/articles/2905622-top-10-sec-players-poised-to-have-a-breakout-year